News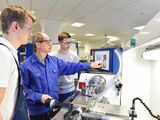 About us
Press Releases
09.06.2020
Climate protection needs hydrogen, modern plant engineering and political clarity. This clarity is finally foreseeable with the hydrogen strategy.
09.03.2020
Hydrogen is a central key to achieving climate neutrality and German industry wants to play a global pioneering role in this area. The technologies for producing climate-neutral hydrogen are already available today. In a joint paper, the associations DWV, VDMA and VKU call on politicians to remove regulatory hurdles, to set the legal framework for an international hydrogen market and to promote the expansion of renewable energies.
04.02.2020
The European Commission's "Green Deal" envisages that Europe will be the first climate neutral continent by 2050. To ensure that this does not remain just a bold vision, the use of Power-to-X technology is urgently required. Technology offers great export opportunities for German companies.
Marianne Ruppenhofer
Assistant to the Managing Director
(+49 69) 6603-1378
(+49 69) 6603-2378
marianne.ruppenhofer@vdma.org